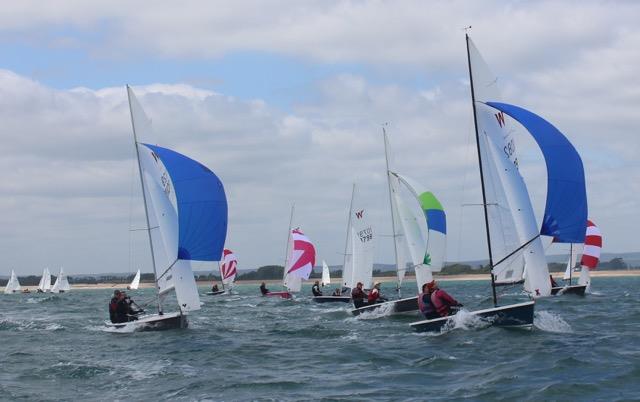 2017 Wayfarer National Championship at Arun © Sue Blessett
It's all stations go for the Wayfarer National and European Championships 2022 which start at Arun YC on Thursday 18th August and run through to Sunday 21st August with three races scheduled each day.
The European Championships were postponed last year because of travel restrictions imposed by the Covid pandemic, but the host club are delighted to welcome visitors from Denmark and Ireland to join the mainland UK fleet. The Danish Wayfarer fleet is particularly strong at the moment and two of the travelling entries for this Championship were in the top ten at the recent Danish National Championships and they would expect to do well.
From mainland UK, the competition is led as usual by Michael McNamara and Simon Townsend, the current UK National, European and International Champions. Michael and Simon will be sailing their new boat, W11321. Pushing them hard no doubt will be Andrew and Tom Wilson, runners up at the 2021 National Championships and a close third overall at a windy International Championships in Ireland in 2019.
Other teams expected to be near the front of the fleet would include Quentin Strauss (previously a runner up in the International Championships and seventh at the Internationals in Florida earlier this year) and Sarah Burgess who have borrowed Michael's other Wayfarer, W10648; Guy Marks (UK Wayfarer National Champion 2015, and recently seen at the front of a Snipe) and Mel Titmus in W11120; Bill Whitney and John Shelton (perenially at or near the front of the fleet, third at the recent Southern Championships and fourth at the windy International Championships in 2019) in W10688; and John Clementson (multiple champion in Mirrors and Graduates) and Sam Pygall in W11101 who recently finished second overall and first Wayfarer at the Medway Marathon. Watch out also for former national champions and Wayfarer builders Richard and Mark Hartley (W11323) who like it windy!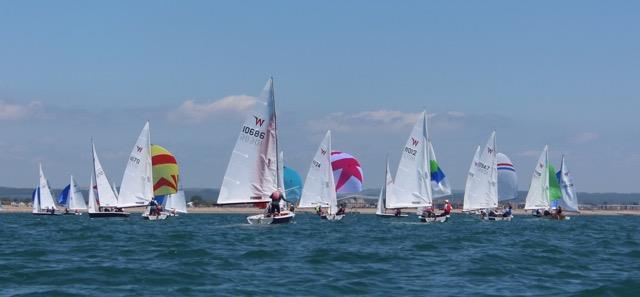 2017 Wayfarer National Championship at Arun – photo © Sue Blessett
Wildcards who might be expected to have at least one very good result during the championships would include John Goudie and Sam Boniface in W11118 (who have been showing excellent speed this year especially in windspeeds of 7-10 knots and who were runners up at the Southern Championships last month), Richard Stone and Catherine Gore in W10974 (who haven't travelled much this year but are always excellent in the light stuff) and Mark and Alex Lee (W11211) who like nothing better than muscling their boat around the race course in stronger winds and will do well in those conditions if they can stay off the righting lever.
Dark horses will the boats from Parkstone especially Jackie Dobson and Dave Mitchell who have a long and successful history in the class and Sean and Helen Murray who showed enormous potential on the second day at the Nationals in 2021 although they had struggled a bit in the extreme conditions on the first day.
Looking through the entries it is difficult to identify any rabbits so watch out for everybody else… especially if you are on port!
Arun YC hosted a very successful UK National Championships in 2017 (with very memorable socials) so the class is very excited about returning there in 2022. The organising committee led by David Robinson have put in a huge amount of work to arrange a great event on and off the water. The extreme heat of recent days may be a thing of the past but the forecast is for a range of wind conditions over the event with something for everybody.
The Championship is one of the Craftinsure National Circuit and Travellers Series events for 2022 and is being sponsored by Craftinsure, McNamara Sails and Hartley Boats.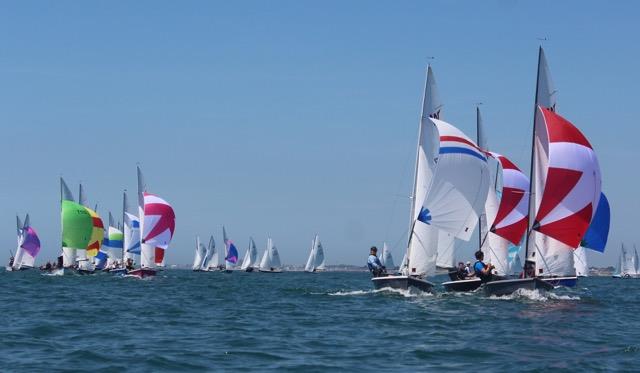 2017 Wayfarer National Championship at Arun – photo © Sue Blessett